How to predict gold price trend 2011 2015
An introduction to gold price prediction
Many of you know that I have been forecasting gold prices to climb until 2015 (see my previous article on gold price forecast). I didn't predict gold prices by throwing darts and see where they landed. I am using a theory that I had developed over 18 years and I do admit that I can be wrong in my predictions. Nevertheless I have been quite reasonably correct in my short to midterm predictions. Midterm means the movement of the shape of the trend over one or two years. This is the first time I am attempting to predict gold price or any other commodity over a four or more year period and the reason will become obvious to you later as I discuss the technical analysis of the predictions.
Basic prediction theory for predicting gold price trend
Let me cover some of the basic theory before I explain how to predict gold price trends. My equation of markets is:-
M(z) = W(z) + I(z) + N(z)
M(z) is the market behaviour
W(z) is the Wave component in the market behaviour
I(z) is the Inflationary component in the market behaviour
N(z) is the news or noise component in the market behaviour.
The Wave component, W(z), shows us that markets and economies are oscillating systems hence they obey wave behaviour. The wave behaviour describes hyperinflation. Once you can represent the market trends as wave behaviour they become mathematically describable and hence you can forecast future trends. If you can describe the wave behaviour as mathematical functions then they are predictable and there is no risk in investing or speculating in markets because you know where it will go and when.
The second component that describe market behaviour is the Inflationary component, I(z). The inflationary component or deflationary component is mathematically describable hence there should be no associated risk with this component. We can predict the base level climb or descent in the markets many years into the future.
The News or Noise component, N(z), shows as markets are influenced by news whether they are good news or bad news. The news component is normally transitory and does not last long. Other subsequent news comes in and alters the market behaviour at a later date. Furthermore, news is quite unpredictable. This is where most of the risk associated with speculation is. For example the shares you invest in a company is climbing so you buy some more with the expectation that the share prices will climb some more. A member of the board of directors had been informing the public through press releases that they were involved in a major project in China. Hence you and many others like you have been buying up more shares with the expectation that the company is going to earn lots of profits within the next few years. It is a sure thing and easy money to be made as you do not have to wait for the profits to come in. You just need to 'bring forward' the so called profits by speculating on the rising share prices and sell off at a high price before the project materialises. This technique should be called "milking the cash cow for golden eggs". Then suddenly, a board member announces there are complications in the deal and the project had to be cancelled. The share prices plummet. They fell to a price lower than what you bought them for. This is an example of the News Component. Most of the risk is in the news component of the market behaviour.
Gold price is range bound
Gold was a controlled commodity in many countries. Furthermore gold price was range bound, if not flat, for many years because currencies were backed by gold but "a series of economic measures taken by U.S. President Richard Nixon in 1971, including unilaterally cancelling the direct convertibility of the United States dollar to gold that essentially ended the existing Bretton Woods system of international financial exchange, caused the gold price to soar". (see Wikipedia for Nixon Shock). Actually, the US$ was devaluing when compared to the gold price. Have you seen how dogs behave when locked up in a kennel? The moment they are released they make a bee line to the furthest spot form the kennel and then when they arrive at the fence they begin to wander all over the place within the fenced garden of the house. That is how gold price moved; gold price just took off, hit a top and then settled down. See my historical chart.
Historical gold price, a walk down memory lane
I remember the late 1960's and early 1970's well. My father was a medical doctor working for the government and was posted to some remote rural backwater town (…. Kuantan) to serve his country. There was no library in town but somehow the town managed to have a couple of main roads. Do you remember the bullock carts that were used to carry goods? Now days we have something called a lorry. Somehow my brother, we were little kids then, managed to get hold, by mail order, a book on investing in gold. The America author was predicting that the gold price would shoot from about US$50 per ounce to a mind boggling US$300 per ounce. And he explained that by investing in gold we were going to be millionaires (... those days in the remote backwaters we hadn't heard of billionaires). Actually, it was illegal in Malaysia to buy gold other than jewellery so my father, even if he wanted too, could not buy gold bars. And imagine that, just the other day, during the 1998 Asian Financial Crisis, our prime minster then, (I think my dad and that prime minster were colleagues, as medical doctors, in a different hospital) was asking Malaysians to donate their gold to the government, the very government that had made it illegal to own gold bars.
The gold price is range bound – the fence, but you would never guess seeing the way it is climbing today. Did you notice how everyone tells you to buy gold, buy gold, gold price is very good, buy more gold, but no one seems to be telling you to sell gold because the gold price is very good? When you see my charts and if my charts are correct you will know when to sell.
What is the gold price today?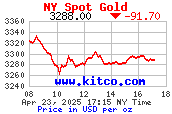 Gold price trend
Historical gold prices have been climbing at an inflationary rate of approximately 3% to 4% per year since 1907. The current trend is like a break out of the dogs from the kennel. It happened from 1971 and lasted for a few years and it is happening all over again. It looks like a near term inflationary rate of 20% and I think many of you think that is fantastic. From a speculative point of view that is fantastic but eventually it will readjust to a more realistic 4% inflationary trend but I think the adjustment is a long way off. The historical gold price inflationary rate of 3% to 4% is more a result of world growth rate than anything else.
Now let us look at the gold price prediction charts
Now this is where, if you would like to know more on gold price trends and analysis, I have to ask your help to make a contribution to cover my cost of research over the last 18 to 20 years. I did it on my own. I funded my own research by doing temporary jobs and odd jobs to keep me going because no one believed that the markets could be predicted. Every fund manager, venture capitalist, banker, financial institution and government agencies had turned me down over the last 18 years. They said that the stock market cannot be predicted. Imagine your fund manager saying that and you wonder how on earth they manage your funds? As a result of my persistence I have developed an Alternate Theory of Economics that can be used to predict gold price trends or any other commodities. Please do purchase the complete article here for an understanding and analysis of gold price prediction charts. There are interesting trends shown of the gold price fence.
See my chart on gold price forecast trend 2011 to 2016
- Dr. Peter Achutha, 4th August 2011