Gold Price Forecast 2011 2015
An introduction to gold price forecast
This article is about gold price trend prediction. I have predicted many commodity trends like sugar, rubber, gold silver and it appears that I need to reassess the prediction every 3 months to a year. That is quite a good track record considering no one else can predict trends many months or years into the future. Most of my experience has been in predicting the shape of future trends so that we know when to buy and when to sell by viewing my charts.
What is the price of Gold today?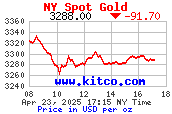 Other analyst gold price forecast
One multi-national bank has predicted the Gold will reach US$2,000 per oz by 2014 and US$5,000 per oz by 2020, see www.goldalert.com gold price forecast. A poll of 12 analysts by Reuters found price forecast for gold in 2015 was $1,700 see www.telegraph.co.uk gold price forecast .
Are the analysts wrong on gold price forecast?
I think they are wrong on the gold price forecast, as if this current mood keeps up we will see the price of gold could breach US$2000 before end of 2011 (very slim possibility) and reach US$3100++ per oz by 2015 and after that must tumble or go sideways because the money supply has dried up and other investment will look more profitable by then. Anyway, I believe, worldwide salaries have to double or triple for gold price to hit US$5000 per oz.
Need about two months to confirm my gold price forecast
To confirm my long range predictions of the price of gold, I need to wait and see what happens after August 2011 (see my silver price prediction chart) when I may make the next gold price forecast correction (I hope I don't need to), forecast or prediction only after August or September 2011. That is, after August 2011, I will know for sure these price of gold predictions are correct because I am expecting silver prices to fall after about August 2011 and I do not know if gold can hold its own against silver or will follow silver's lead. But I still think that the 2015 prediction of USD$3100 is correct.
Summary of gold price forecast
In between, 2011 and 2015, there will be ups and downs. If you are a speculator you cannot be looking that far but if you are a genuine investor it is worth considering when to take a position on gold. Actually, if the current economic mood prevails the price of gold can roughly go upwards for the next few years, up to 2015 to US$3100 per oz, when it will hit a 'top' then tumble or go sideways.
Table of gold price forecast



I noticed the behaviour of gold was 'strange' in October / November 2009 when I first did the charts but it was too early to tell. In October / November 2009, based upon my charts, during the World Wide Recession, I did however predict that commodity prices in general will climb in 2011. In the analysis above I am using averaged data and not closing prices hence gold price could move to US$3700 by end of 2015. (this paragrah added 18 July 2011)

More Commodity Charts

9. Soybean prices forecast chart 2013 2014 2015 2016 (20 Janury 2013)

8. Palm Oil price trend prediction 2012 2013 2014 (14 Janury 2013)

7. Brent Crude price forecast 2012 2013 2014 (12 December 2012)

6. Soybean prices commodity chart prediction for day traders and others (10 October 2012)

5. My rapeseed commodity chart prediction useful for day traders and others (17 September 2012)

4. Gold price and business opportunities (7 September 2011)

3. Gold price forecast trend chart 2011 2012 2013 2014 2015 2016 (31 August 2011)

2. Gold price forecast 2011 2015 (15 July 2011, updated 18 July 2011)

1. Approximate silver price trend prediction chart june sept 2011 (9 July 2011)

This article on "Gold price forecast" was researched and written by Peter Achutha, 15th July 2011